Suffering from a rotator cuff injury, I was looking to build a bike with upright handlebars. I stumbled across this frame on Ebay, and picked it up for $10. Based on the date code, the fact that this has 2 sets of water bottle bosses, as well as braze-ons for a rack / fenders, I have to believe this is an '87 Prelude that was powder coated gray (There's still a semblance of the original Ice Pink in the seat tube). So I went through my spare parts bin, figured out what I'd neeed to finish it off, and started buying parts online.
To start with, I had a set of Sun CR18 rims, 700C X 36h & 700C X 40h. I bought a set of low flange Campy hubs on Ebay, and laced them up with some Wheelsmith double butted spokes. I picked up a replacement fork from Niagara Cycle (supposed to be Cro-Mo), and installed it with a generic replacement headset. Next, I installed a set of Suntour Sprint derailleurs - I purchased these in the late 90's (equivalent to Shimano 600 of the same time period). I had a set of Suntour GPX cranks - again purchased in the late 90s (equivalent to Shimano 105 from the same time period). The seat post was an old Suntour Superbe Pro I had laying around.
Most of the parts I bought were related to the handlebars. A Nitto Technomic 90mm stem, Velo Orange alloy handlars, Velo Orange brake levers and Ergon GP-1 grips finished it off. SKS fenders, and Continental 700C X 25 Ultra Sport tires (I wanted to go bigger, but there's not much tire clearance as the Prelude was designed as a racing bike, not a touring bike) MKS pedals and 1 14-26 Suntour 6spd Winner Pro freewheel. I opted for some old 400 Suntour Superbe brakes off of Ebay. i believe these were manufactured by Dia Compe and are nothing more than the old Gran Sport brake calipers that have been rebranded. Awesome brakes, pulling with two fingers, and the bike stops on a dime. A Brooks B67 saddle, a brass bell, some battery lights and a cheap rear rack and a couple of cheap inexpensive canvas bags to finish it off.
For its maiden voyage, my wife and I took our bikes up to Mackinac Island, and spent the day riding around, and had a blast. The bike is whisper silent and rides like it's not even there. No pain in the shoulder but it handled like my other bikes so no problems there. I did have issues with the shifters mounted on the downtube. Reaching down that far when sitting completely upright just to change gears was a pain. I considered getting some thumb mount shifters, but wasn't keen on the idea - most of the 6 speed stuff from the late 80's was kind of clunky, and while the 7 speed shifters from the time period looked much slimmer, I would have had to use them in friction mode. I then thought about getting some stem shifters, but the same issue with the stuff available that would be compatible was kind of clunky. That's when I stumbled across a shifter bracket from Rivendell. A bit pricey at $50, but I was hoping it would work with my existing downtube shifters. At first, it was aparent that I had made a mistake. The curved bosses on the shifters were integral to get the shifters to work properly, but kept the shifters from mounting to the bracket. A little time on the bench grinder followed with some touchups with a hand file, and I had the backs of the lever bosses flat to where they bolted right on, and worked perfectly. A couple of Shimano downtube shifter boss adapters, and I now have my shifters mounted to my stem, easily in reach.
So far I love it. It rides fantastic, and considering how flat the Chicagoland area is, the lack of a granny gear isn't really noticeable. If I ever decide I need one, I might just have to check out some old XC components (derailleurs / crank / freewheel) and have a go at it, or more likely go pick up an old Voyaguer or Passage and keep this one as is.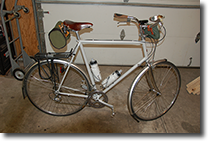 Click here for more pics.